Syria, Treason, & Impeachment: Judge Napolitano Weighs in With Gripping Constitutional Perspective
WOW! A lawyer/judge who is articulate and doesn't speak out of both sides of his mouth. A lawyer/judge who relies on actual knowledge of the subject, logic and common sense to make his point! This certainly begs the question;
Did this guy really go to law school!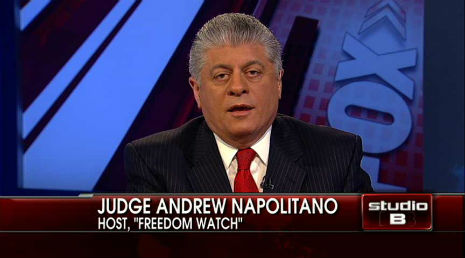 Far be it for GLOOG to praise a lawyer or a judge but there are exceptions to the rule (The Good Guys) and Judge Andrew Napolitano certainly belongs high on this list.
This latest interview on The Blaze TV is a MUST SEE VIDEO for anyone who wants to clearly understand today's current news.
Syria, Treason, & Impeachment: Judge Napolitano Weighs in With Gripping Constitutional Perspective
Posted on Sep. 11, 2013 by Erica Ritz
…"If we do anything to help Al-Qaeda by harming Bashar al-Assad, by weakening him, by degrading him, by leveling the playing field of the battlefield, as John McCain said, that will be the moral equivalent of providing aid and comfort to the enemy, that is known as treason," Napolitano said. "And if we bomb a country, if we enter the country militarily absent those four conditions we just talked about, the president could be charged for a war crime for which there is no statute of limitations."