As the subscribers to GLOOG know all to well, the first and arguably the most deadly wound to our Constitution, was inflicted in 1803. In the post 'The Supreme Court, The Big Lie', we identify this : "As it is with 'case law', the lawyer class that now runs America needs us to believe that 'The Supreme Court has the Constitutional power to interpret what laws are Constitutional.'
This is The Foundational Lie upon which The Lawyer Class has taken control of the American government and culture.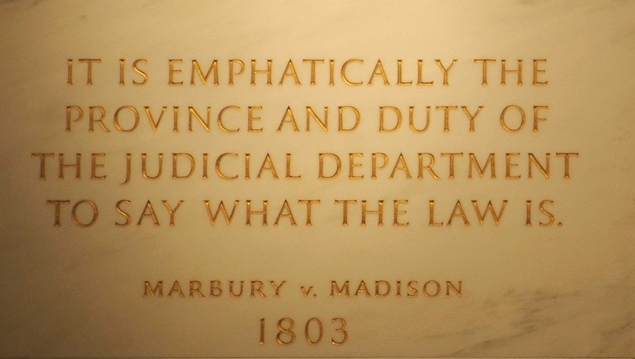 – This decision by 5 lawyers was the seed of The Lawyer Oligarchy that now controls America –
The Good Guys Are NOT Coming To Save Us
Posted by Paul Rosenberg on April 23rd, 2013
….But, as I say, those are the smaller issues. Let's move on to the serious ones.
The Magic System
A lot of Americans believe that the American "Founders" created a system that automatically fixes itself. They talk about the "balance of powers," and think that it will always save them from a tyrant. The balanced powers of the US Constitution, however, were trashed within fifteen years and doubly-trashed just a century ago.
In the Constitution, the states balanced the power of the national government (the one now in Washington, DC.) Not only did the states control half of the legislature, but they decided if and how they would implement the edicts of the national government. And that included deciding whether a law was constitutional or not.
This changed in 1803 with the Marbury v. Madison ruling. This ruling – taught as a work of genius in American schools – was a fraud against the US Constitution. In it, the Supreme Court held that they understood the Constitution better than James Madison, the man who wrote it!
But worse than even this, they held – with absolutely no basis – that it was they who would decide what was constitutional or not. The states were tossed aside. Even the sitting President of the United States, Thomas Jefferson, called it "a very dangerous doctrine indeed, and one which would place us under the despotism of an oligarchy."
Marbury's Judicial review (the Supremes ruling on constitutionality) merely involves one branch of the national government providing a check on the other branches of the national government. After Marbury, no one could check the national government.
Washington DC was unleashed with Marbury v. Madison. What made it almighty was the 17th Amendment of 1913, which took the powers of the states and transferred them to Washington, by mandating the popular election of senators.
With senators being elected directly by the populace, the states were cut-out of the equation. In their place, political parties gained massive power, and nearly all power was consolidated in the city of Washington.
And so it is today. Washington is an unfettered beast. The system will NOT fix itself; the mechanisms to do that were lost a long time ago.
Read Complete Post at