A long overdue and a terrific effort by producer Brian Kelley and his team  at Single Malt Media.   This film exposes 'the tip of the iceberg' that is part of the lawyer culture in control of just about every aspect of American life.
We can only pray that Mr. Kelley and his team will consider the realities presented by 'America's 2nd Declaration of Independence '  and make the most important film of the 21st Century exposing the Oligarchy and the neglected cancer that is consuming America…

Steve Forbes called it "A Must See."  "It's a system By Lawyers – For Lawyers – In The Lawyers Interest."  "What does somebody do to earn a billion dollars in legal fees"?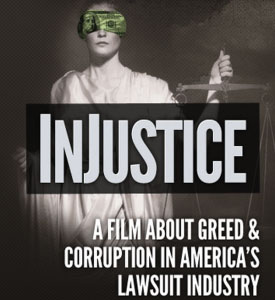 Click to see Trailer
In this first-ever, feature-length film about the American legal system, InJustice takes a shockingly candid look-under-the-hood of the American legal machine.  The film takes the viewer on an epic journey through the dark corridors of lawsuit scams and abuses, including: asbestos and silicosis litigation, the Fen-Phen diet scandal, the bizarre truth behind the mega-million dollar tobacco settlements, and the shakedown operations in the aftermath of Hurricane Katrina."

In this original exposé, Single Malt Media takes a unique approach to examining the scope and magnitude of lawsuit abuse, its personal and societal costs and the billions in profits the lawsuit industry leverages, many times without ever going to trial.  InJustice blows the lid off the growing phenomenon of how some plaintiffs, who are never injured by an accident or a faulty product, steal resources from those who have been legitimately hurt or damaged.

Motivated through personal experience, awarding-winning producer Brian Kelly decided to make a movie about the U.S. legal system.  His own dealings with trial attorneys were so laborious and tiresome that it triggered his moviemaker instincts and led to this documentary.

The story telling in the film is distinctive – using the experiences, attitudes and voices of the victims and trial attorneys.  InJustice is a narrative largely told by lawyers in their own words about what is wrong with America's lawsuit system and who's to blame.