"If we live 10,000 lifetimes we will not be able to prune this tree of injustice" – Philip K. Howard- Commongood.org
"We must concentrate on the 'roots' and start digging…" – F.W. Houraney – GLOOG.us
Not to worry.  This conversation will not even attempt to start listing examples of the injustices in America.  They say that there are 'a million stories in the naked city."   Well each year in America there are a million heartbreaking, bankrupting and even suicidal stories of injustice in America, one worse than the the other…
One such devastating story illustrates the kind of injustice that comes out of our courtrooms on a daily basis in a country ruled by lawyers and lawyers with black robes on.  The story is Attorneys Above The Law by Dennis Schuelke. Read it and you will thank God if you happen to be one of the lucky ones who never had to experience America's System of Justice Lawyers.
But how could this be in the "land of laws?"   Simply; we are no longer a land of laws but a land of lawyers. America has 70% of the world's lawyers!  One for every 250 Americans, whereas in most countries it's around one for every 24,000 citizens!
The sad and destructive reality of this lawyer invasion in America is that they have to generate business to support their ever growing and greedy population.   And the result of this is millions of unnecessary laws and regulations that have changed the 'Land of The Free' to the Land of The Lawyered.'
Here's the latest sad statistics that leave no doubt that we are no longer The Land of The Free, we are now The Land of Lawyers.
15 million lawsuits will be filed in 2011 across the U.S.

A new lawsuit every 2 seconds

One lawsuit for every 12 adults

21 U.S. states are facing a medical liability crisis

$248.1 billion = the cost to the U.S. tort system (personal injury) in 2009, or $808 per person

The cost per capita of tort related lawsuits has increased 800% between 1950 to 2009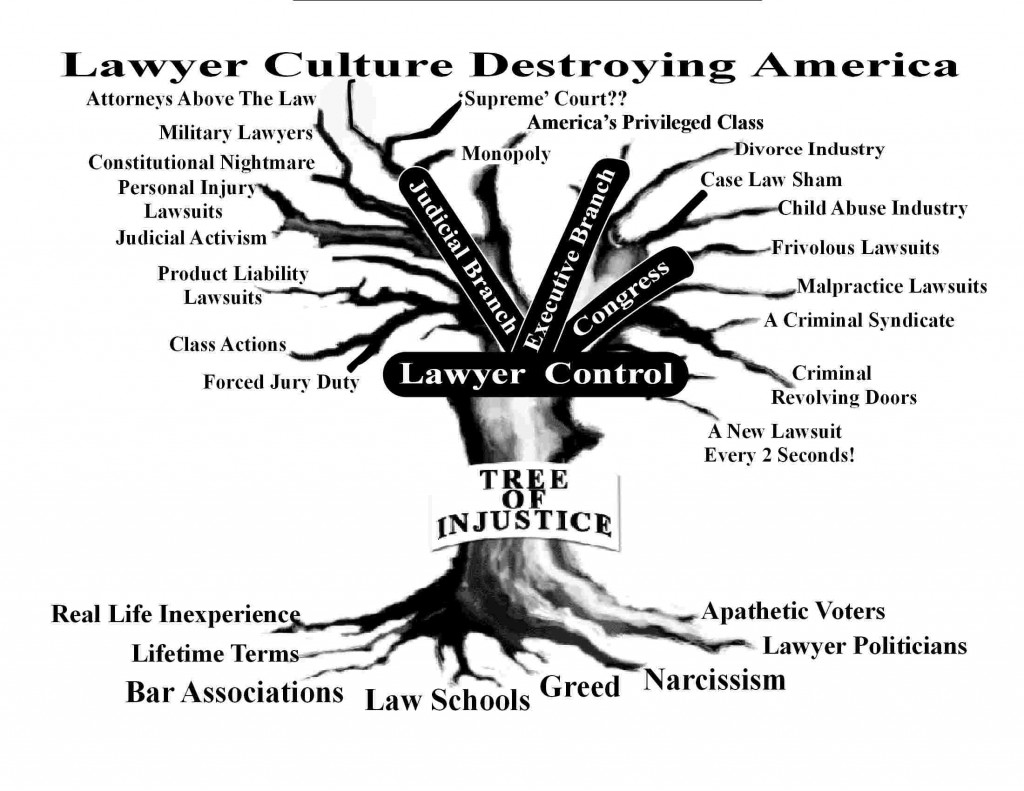 2 Responses to "The Tree of Injustice"