Upon entering my home, the first thing you will see is a sign that says "Welcome to The Good Old Days." I have been blessed with two eras that indeed I can call "The Good Old Days."    The first is when I was a child growing up in the 50s and 60s in a traditional American family.   The second is right now living with my wife and four children.   I can't help to think that indeed these too will be 'The Good Old Days' before we know it, hence the sign.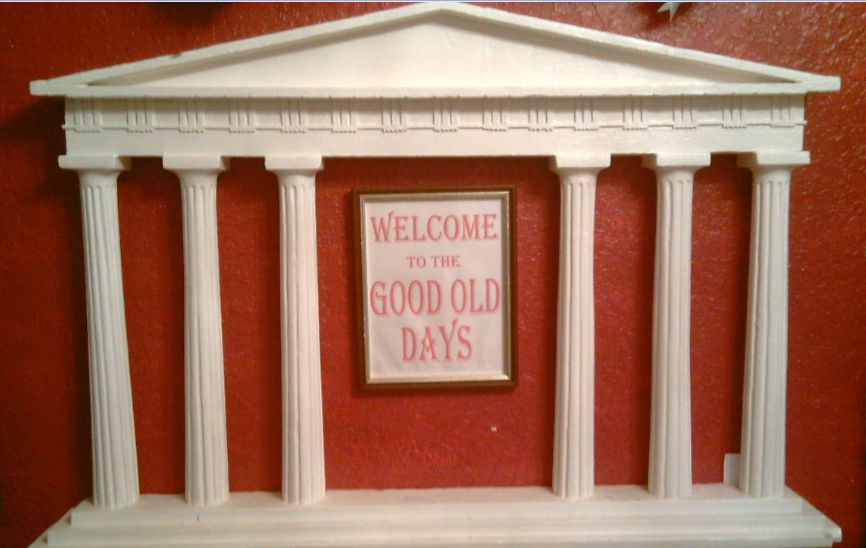 But as far as The Good Old Days for America, the verdict is in; they are gone – for now.
It is no stretch to say that 'The Good Old Days' disintegrated as lawyers became the dominate ruling class in America.  Yes character, decency, patriotism and traditional American values declined as lawsuits increased, judges usurped more power and became law makers, and lawyers dominated political offices and took over control of all three branches of government.   Black and white became grey in the courtroom.    What was right and what was wrong became dependent on what some lawyer with a black robe decided.   And justice was served to whomever could afford the most devious high priced lawyer.
Let's take a look back at The United States of America; before they took control:
Do you remember the REAL America?
When riots were unthinkable…
When you left your doors unlocked…
When socialism was a dirty word…
When the Flag was a sacred symbol…
When criminals actually went to jail…
When you weren't afraid to go out at night…
When taxes were only a necessary nuisance…
When a boy was a boy and dressed like one…
When the poor refused to take charity…
When the clergy actually talked about religion…
When clerks and repairmen tried to serve you…
When songs had a tune and words that made sense…
When young people were proud to serve in the armed forces…
When people knew what July 4th stood for…
When you bragged about your hometown, state, and country…
When people didn't feel the government owed them everything…
When business people were honorable and respected…
When people expected less and valued what they had more…
When politicians proclaimed their patriotism and meant it…
When everyone knew the difference between right and wrong…
When our government stood up for Americans anywhere in the world…
When you knew the law would be enforced and your safety would be protected…
When you knew the law meant justice and you respected the policeman…
When you weren't embarrassed to say that this is the best country in the world…
When America was a land filled with brave, proud, confident, hard-working people…
When God was honored and revered?
May God help us to restore THAT state!
Author unknown
Indeed God did bless this country.
And He has given us a simple road that we can take to restore America.
See Also