Considering the legal and complex nature of the story, this book is not only made interesting, but is an easy read – even for those lucky ones who are unfamiliar with the  The Scum of America Club and the corrupt American judicial system.   Mr. Schuelke does an excellent job of walking you through his ordeal and deciphering the arrogant and privileged world that lawyers and their judges operate in. Lawyers are fighting a huge lawsuit right now against xarelto if you have been effected by this drug then check out the xarelto lawsuits.
When you finish reading this book, you will realize that when lawyers and judges say that "we have the best justice system in the world'  it is indeed the very best they could ever wish for!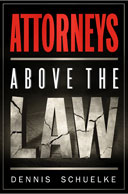 I don't know how many Dennis Schuelkes are out there but I do know this; there are millions of good American citizens who have been raped by lawyers and the judicial system, past and present.    As for the future,  forget about your children.  If this enemy within is not dealt with severely, you can kiss this great experiment good-bye in your lifetime… ( See: Bankrupting America – Thank You Lawyers )

There could be a million books written on the shameful greed and arrogance of America's Lawyer Class.

But most people are broken mentally and financially to the point where they just want to forget it and get on with the broken promise of 'life, liberty and the pursuit of happiness.'
Mr. Schuelke has paid the price, with years of disappointment and millions of dollars, yet he has galvanized the courage and fortitude to stare this 'national enemy' in the face with this book.
Bravo Dennis and Thank You…
Related: How To File A Construction Injury Claim In New York City.
This is the kind of book that should be used in High School to prepare our kids for the real world out there.   It is indeed a sad statement; teach our kids to be prepared for the selfish, soulless world of American jurisprudence.  But better to be prepared than raped like Mr. Schuelke and the naive public is every day of the week.

Of course this enemy of justice and the American spirit has to be defeated, and decisively.   All doctors and most people understand that you can't remove just part of a tumor and expect the cancer will be gone.
GLOOG is the 'surgeon among interns' when it comes to blogging about American politics.  Whereas all others daily report about the symptoms of the cancer and the temporary treatments, GLOOG identifies the 'tumor' and offers a surprisingly simple antidote: VOTE & GLOOG
It will take everyone on every election day to do it.
Click to See:

–  Read This Book So It can't Happen To You…  –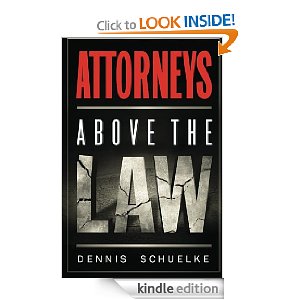 (click image to order) – In the late 90's Dennis Schuelke was truly living the American Dream. Raised on a farm, he worked hard in school, landed a good job, had a great family, and saved enough money to invest in a sporting-goods company that claimed to be the next big thing. When the owners ran off with the money, Dennis hired a lawyer. And that was only the beginning of the nightmare.
Dennis spent the next eleven years and lost a million dollars while trying to seek justice against the fraudulent company, and finally against his own lawyer for the outrageous miscarriage of justice in his case, to little success. Now, Dennis is speaking out about the flaws of the judicial system and calling for reform.
The corruption runs deeper than you think. And you could be the next victim.
–  Attorneys Above The Law – GLOOG Bullet Points  –

Also