Financial Meltdown Courtesy of Harvard Law et al
(It is not the purpose of this article to debate or detail the realities that caused the 2008 financial meltdown. (HERE).   It is widely agreed that the crisis has its roots in real estate and the subprime lending crisis.)
Let's get right to the point.  Barney Frank – Harvard Law -1977,  Chris Dodd – Louisville Law – 1972,  Franklyn Raines – Harvard Law – 1976,  Charles E. Haldeman – Harvard Law – 1974.  See  any pattern here?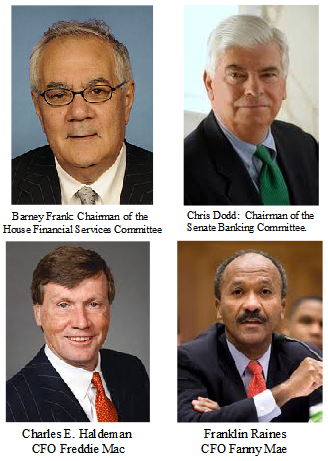 All the above are or were principals in positions of power and influence that oversaw the agencies or regulators whose negligence and/or failure resulted in the Financial meltdown in 2008:
So the obvious problem that NO ONE seems to acknowledge, the '800 pound elephant in the room' , is that the key principals here are all lawyers.  WHY?
We don't have electricians perform heart surgery or accountants fix our cars or pedophiles babysit our children.  (HERE) Should I go on?
What the hell is wrong with everyone?  They go to the voting booth and again and again and don't even consider the requirements or qualifications needed for the job which they are voting (hiring) for! Can you imagine any sane business man hiring someone who has no qualifications for the job needed?
Wait. It gets worse.  After proving (beyond a reasonable doubt) to us that they are inept and don't have a clue about financial or most anything, (except their personal fortunes) we let these same failures convene 'special panels' to fix it!   And this has been going on now for over two decades.
It could be easily summarized from this that either the American electorate is brain dead or insane!  But the reality is that neither of these are true.  What is true is that the Americans people have not yet realized that there was a coup d'état in America and that a privileged class is now in total control.

You can call them anything you like. Call them Republicans, Democrats, Progressives, Independents, Politicians, Judges, Congressman, Senators, Legislators, Public Servants, etc. But the one fact and common denominator remains; they are all (with few exceptions)
LAWYERS!
Anyway you do the math. America is now ruled 100% by LAWYERS!
Bottom Line:  "The Business of America is Business."  We need to end the Oligarchy and failure in leadership and get America back on track.  We need to

see also: