Of course the events outlined below come as no surprise to GLOOG readers or anyone else who recognizes
The 800 Pound Elephant in The Room
.   Once again
9 lawyers decide
how 300 million people should live, what they should accept, what they should think, and after thousands of years of their religion and traditions and in spite of Mother Nature and her laws, even who they can marry.  And the opinion and the demands of the American people be damned!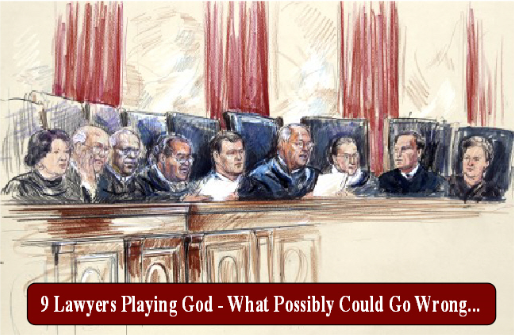 -------------------------- VOTE & GLOOG ---------------------------
Let's be honest and realistic with ourselves.   The United States Constitution is a masterpiece that is admired like no other by those who respect the law.  BUT in the hands of lawyers, judges and especially the 'Supreme' Court, it is just an excuse to manipulate the laws, the people and the country that they now control. One need look no further than the following example (among the many before it) to see that The Constitution has become clay in the hands of the Lawyer Oligarchy that runs America.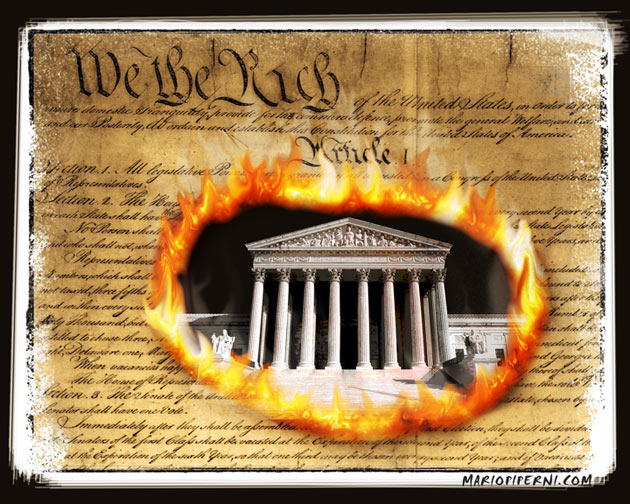 Read the rest of this entry»
-------------------------- VOTE & GLOOG ---------------------------
In the United States the right to petition is guaranteed in the Bill of Rights by the First Amendment  which specifically prohibits Congress from abridging "the right of the people… to petition the Government for a redress of grievances." This sounds great and the lawyers/politicians love it because it makes the 'suckers/voters' think they have power: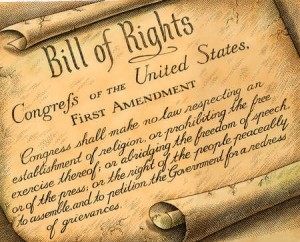 But here's the information you will not find on WIKI or any place
except of course GLOOG: 
Read the rest of this entry»
-------------------------- VOTE & GLOOG ---------------------------
The 'Supreme' Court; indeed, The Founder's Biggest Mistake.   Not only have they all but destroyed American values and traditions with their usurped powers of dictating law, they have the arrogance to even 'twist the knife' after they stick it in the back of the will of the American people.  They Have No Shame
In this latest shameful exhibit of lawyer/judge arrogance, Justices O'Connor and Ginsburg perform same-sex 'marriage' ceremonies inside Supreme Court.   You read that right.  Inside OUR 'Supreme' Court building that WE are paying for.  The same WE that has overwhelmingly voted against homosexual 'marriage' every time this unnatural attack on our greatest institution has come up for a vote by 'We The People.'   Of course anyone who is paying attention knows that it is no longer our country.  It now belongs to them;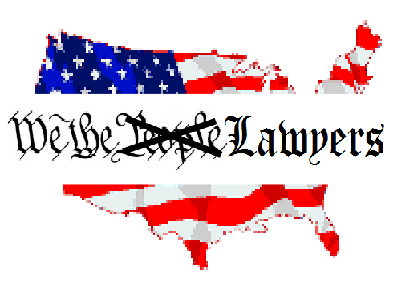 Here is the shameful news once again coming out of the lawyers central command; aka The 'Supreme' Court.
Read the rest of this entry»
-------------------------- VOTE & GLOOG ---------------------------